Genevector Accelerates Investigational AAV Gene Therapy Pipelines Following Successful Pre-A Financing
2022-04-08

Open the phone and scan
Recently, Chengdu Genevector Biotechnology Co., Ltd. (hereinafter referred to as "Genevector"), a new drug development company dedicated to the AAV gene therapy for ophthalmic diseases, neuromuscular diseases and genetic metabolic diseases, has successfully completed a Pre-A round of financing amounting to tens of millions of yuan.
This round of financing was co-invested by Ruijing Investment, Yingke PE, East Lake High Technology Group, Ming Capital and Sichuan Huisu, and will be used to advance the IND filing of the company's investigational pipelines. Investment institutions noted that, gene therapy is one of the most cutting-edge interests in the field of biomedicine, and has become an important track for capital investment. Genevector has a complete R&D platform for AAV gene therapy and abundant investigational product pipelines of AAV gene therapy drugs, and its scientific research capability and AAV preparation technology are at the leading level in China. One of its founders, Academician Wei Yuquan, has been engaged in gene therapy research for more than 20 years, with rich experience in basic R&D and translational application; another founder, Research Fellow Yang, was engaged in AAV gene therapy research in Professor James M. Wilson's team at the University of Pennsylvania and has been deeply involved in the field for nearly 10 years. Genevector is expected to advance the IND of' its pipelines and enter the clinic phase as soon as possible, so that more patients can use the homemade gene therapy drugs.
1.R&D platform completed to boost multiple pipelines
Focusing on patients' needs is always the original intention that Genevector insists on. In April 2020, Genevector started to operate a 3,000 square meter AAV new drug development platform, including GMP-grade AAV preparation workshop, plasmid preparation workshop, quality research platform and patent medicine development platform, realizing a complete AAV gene therapy technology chain from AAV drug design, druggability research, pilot scale production to quality research. Genevector has developed a scalable and cost-controlled large-scale AAV preparation and chromatographic purification process, and several investigational product pipelines for ophthalmic and systemic drug delivery have been well advanced.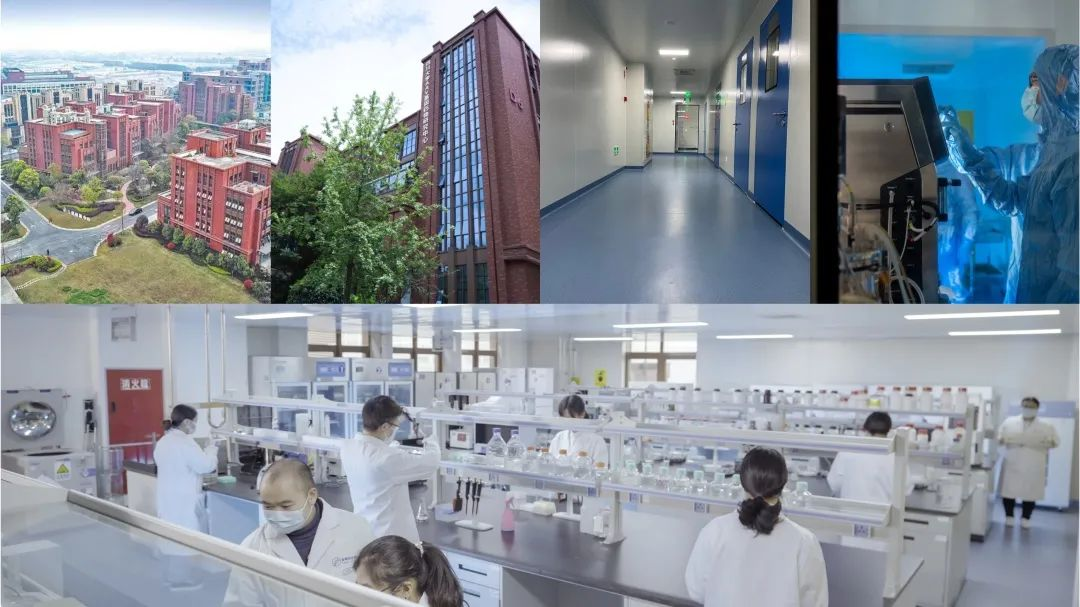 New drug development platform for AAV gene theory, located in Phase I, Sanyi Innovation Center, Wenjiang District
2.Make treatment easier and genetic medicine more accessible
In order to realize the vision of making treatment simpler and life better, Genevector always insists on making genetic drugs that people can be cured and afford. Currently, the company has a number of products under development, focusing on ophthalmic diseases, neuromuscular diseases and genetic metabolic diseases. Among them, the JWK001 for wet age-related macular degeneration (wAMD) and JWK002 for X-linked juvenile retinoschisis (XLRS), as the leading pipelines, have made the fastest progress and will successively enter the preclinical safety evaluation trial stage and then file for IND.
Genevector's investigational pipelines
About JWK001
The first-line therapy for wet macular degeneration (wAMD) is targeted intraocular anti-VEGF drugs, but this therapy suffers from frequent intravitreal injections and poor long-term prognosis. The gene therapy drug JWK001 uses AAV to deliver a newly designed VEGF-neutralizing protein expression sequence to retinal cells, which can inhibit neovascularization through continuous high-level expression of VEGF-neutralizing protein and efficient binding of vascular growth factor, thus achieving a single treatment with lifelong effectiveness. Meanwhile, JWK001 also achieves higher in vivo expression at a lower injectable dose (1e11) compared to REGENXBIO's investigational pipeline RGX-314, which is in clinical phase I/IIa. The project will enter clinical filing late this year and clinical trials are expected to begin in 2023.
About JWK002
JWK002 is a gene therapy drug for X-linked juvenile retinoschisis (XLRS) that uses AAV to deliver the Retinoschisin (RS1) gene into retinal cells to restore retinal structure and function in patients with XLRS disease by specifically expressing the RS1 gene in photoreceptor cells. JWK002 can achieve long-term expression following a single subretinal injection, which is expected to lead to effective treatments for the patients. The project is expected to enter clinical filing in 2023.
3.A core team of multi-disciplinary talents to safeguard independent innovation
Prof. Wei Yuquan, a founder and chairman of Genevector, is an academician of Chinese Academy of Sciences, former vice president of Sichuan University, and currently director of Clinical Oncology Center and State Key Laboratory of Biotherapy at West China Hospital. He has long been engaged in basic research, application development and clinical medical treatment of tumor biotherapy, and has made important contributions to tumor biotherapy. He has conducted in-depth research on the effects of mesenchymal cells in the tumor microenvironment, including immune cells, fibroblasts and vascular endothelial cells on tumor growth, as well as the regulation of immune cells by metabolites of tumor cells. He has made a series of innovative research results in the basic R&D and translational applications of biologics such as gene drugs and vaccines, and small molecule targeted drugs, etc. He has also scored outstanding achievements in industry-university-research cooperation and results transfer. The biologics and small molecule targeted drugs developed by his team have been transferred to several domestic pharmaceutical companies and are under joint development.
Yang, a founder and CEO of Genevector, is a research fellow and doctoral supervisor and was engaged in AAV gene therapy research in the team of Professor James M. Wilson, an expert in gene therapy at the University of Pennsylvania. He has been working in the field for nearly 10 years.
All members of the core management team of Genevector are from well-known pharmaceutical companies, research institutions and universities in China. Some are scientists who are deeply involved in research, and some are elites from industry and businesses. The members of core technical team have technical backgrounds in upstream technology of product development, pilot process research, quality research and GMP production, giving Genevector an integrated level of R&D from product design and development, process and formulation development to quality standard research.
4.With promising AAV gene therapy, Genevector expected to make a splash
To date, three of the 16 approved gene therapy products worldwide are AAV gene therapy products. In 2012, the European Union approved Glybera®, the world's first AAV gene therapy product, for the treatment of human lipoprotein lipase (LPL) deficiency. In December 2017, the FDA approved the ophthalmic gene therapy Luxturna® for the treatment of Leber's congenital amaurosis (LCA) and other eye diseases caused by mutations in the RPE65 gene, which became the first true gene therapy in the U.S. market and marked the official dawn of the gene therapy era. A year and a half later, Novartis' gene therapy for spinal muscular atrophy (SMA), Zolgensma®, was also approved.
AAV gene therapy has shown a broad development prospect, and the successful financing of Genevector also makes us believe that through the continuous accumulation of technology and capital, the company's excellent pipelines will enter the clinic more quickly. Based on its own strong technology platform, through cooperation with leading industry partners at home and abroad, Genevector will integrate resources, continue to improve the production and development chains, achieve drug accessibility, and then benefit the patients. Genevector will be a potential winner that clinical demand and capital market can jointly expect.
Profile of investor
Ruijing Investment
Focusing on early stage equity investment in innovative medical devices and innovative biotechnology, Ruijing Investment currently manages several RMB funds with investors including industrial capital, family offices, asset management companies, etc.
Yuan Hailong, investment director of Ruijing Investment, noted that: "Gene therapy is the future development direction of the pharmaceutical industry, AAV gene therapy is a clinically proven viral vector gene therapy technology. A number of AAV drugs have been marketed abroad, and AAV gene therapy has a higher success rate compared to other viral vector gene therapy technology. The founding team of Genevector has mastered the core process of AAV production, and its products can effectively solve the unmet clinical needs in ophthalmic diseases, neuromuscular diseases and genetic metabolic diseases, with development progresses in the leading position at home and abroad. We are very much looking forward to the early benefit of Genevector's products to the patients."