International Authoritative Journal Publishes China's Anesthesiologists' Original Theory of "Multimodal Sleep"
2021-05-31

Open the phone and scan
Subscription Account of SCIMEA, your contributions are always welcomed here.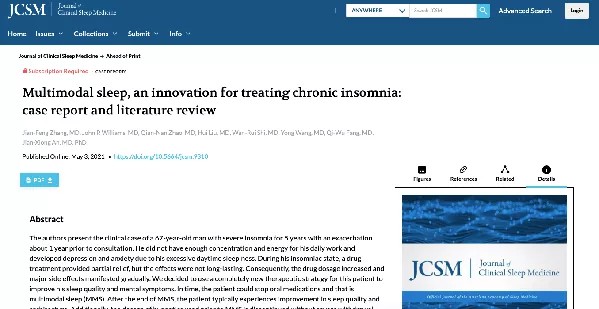 The Journal of Clinical Sleep Medicine, the official publication of the American Academy of Sleep Medicine, has recently published a new concept of insomnia treatment—Multimodal Sleep (MMS)—proposed and practiced by he team of An Jianxiong, an anesthesiology and sleep medicine expert of China. This marks the recognition of the original innovative theory of Chinese physician-scientists by international peers. The first author of the article is Zhang Jianfeng, a PhD student at Savid Medical School, University of Chinese Academy of Sciences, and the corresponding author is Prof. An Jianxiong, Vice President of Aviation General Hospital of China Medical University, Executive Director of Beijing Translational Medicine Institute, Chinese Academy of Sciences, and initiator of the Special Committee on Anesthesia and Pain of Chinese Sleep Research Society, and co-author is Dr. John P. Williams, former Chairman of the Department of Anesthesiology and Critical Care Medicine, University of Pittsburgh, USA.
Since 2015, An Jianxiong's team have been exploring ways to treat intractable insomnia with innovative anesthesiology knowledge and techniques, and proposed and practiced the new theory of MMS based on the work on "patient-controlled sleep". MMS was first announced by Dr. An Jianxiong at the annual meeting of the Beijing Neurology Association on November 3, 2019 and published in The Chinese Journal of Anesthesiology in May 2020, with the editor's note written and edited by Prof. Xiong Lize, former president of Xijing Hospital of Air Force Medical University (formerly the Fourth Military Medical University) and editor-in-chief of the journal. Prof. Liu Jin, who led the Department of Anesthesiology of West China Hospital to rank first in China for 11 consecutive years, wrote an inscription for this achievement—"A new concept is proposed, a new method established, and a new field opened up".
Insomnia is a subjective experience of unsatisfactory sleep time and/or sleep quality that affects daytime social functioning despite the availability of appropriate sleep opportunities and sleep environment. According to authoritative data, there are 400 million patients with sleep disorders in China, of which nearly 300 million suffer from insomnia disorders. Insomnia not only affects daytime mental status, reduces quality of life, loses productivity and increases the incidence of work and traffic accidents, but also builds up the burden of social and family life. In addition, insomnia can also increase the incidence of hypertension, diabetes, coronary heart disease and heart failure.
The treatment of chronic insomnia disorders is extremely difficult and requires significant medical resources and wealth. Although most developed countries around the world have invested a lot of human and material resources in research, only the efficacy of cognitive-behavioral therapy has been proven so far, others including the commonly used drug therapy are rife with controversies in clinical practice. However, some insomnia patients have difficulty in going through the full process until they are cured due to the scarce professionals engaged in cognitive behavioral therapy and the poor compliance of patients.
In this context, An's team proposed and practiced the "Patient-Controlled Sleep (PCSL)". The so-called "PCSL" refers to the ability of a patient to fall asleep when he or she needs to do so by injecting natural sleep-inducing drugs into the vein through a self-controlled drug delivery device. Although most patients can obtain satisfactory results, some patients still drop out of treatment for various reasons. In response, An proposed the MMS and led his team to implement it, which resulted in a significant increase in cure rates and patient satisfaction. MMS is an individualized treatment method that aims to restore the patient's normal sleep cycle while treating a wide range of conditions (including anxiety, depression, drug dependence and sleep cognitive disorders) triggered by insomnia, through the use of different medications and treatments under anesthesia, real-time EEG and respiratory sleep monitoring, in accordance with the characteristics of the patient's different sleep disorders and the different progresses of the conditions. Through years of research, An's team has summarized the MMS into five fundamental steps: multidisciplinary assessment, titration, drug dependence detoxification, patient home self-control sleep and relapse prevention.
In order to explore the mechanism of MMS in treating intractable insomnia, An guided the graduate students from the University of Chinese Academy of Sciences and China Medical University to conduct a series of experimental studies in animal behavior, neuropathology, genomics, bioinformatics and molecular biology. It was found that brain cell damage is one of the important mechanisms in the development of insomnia, as well as the root of the intractable insomnia. The PCSL-oriented MMS first restores the patient's disturbed sleep rhythm, and gradually repair the neural structure damage caused by insomnia disorder by repeatedly correcting the abnormal sleep rhythm. An believes that this may be an important neurophysiological and neuropathological basis for MMS to treat the intractable insomnia.
About the authors
Zhang Jianfeng, a PhD student at Savid Medical School, University of Chinese Academy of Sciences. He received a Bachelor's degree in Medicine and a master's degree in anesthesiology. He is mainly engaged in research on the pathogenesis and neuromodulation treatment of trigeminal neuralgia and thalamic pain. Under the supervision of Prof. An Jianxiong, he published the original animal model of thalamic pain produced by administration of cobra venom in Pain Physician, the official publication of the American Society of Interventional Pain Physicians in 2019, and the new theory of MMS in The Chinese Journal of Anesthesiology in 2020.
An Jianxiong, MD, supervisor of PhD students, Chief Physician. He is the Vice President of Aviation General Hospital of China Medical University, Executive Director of Beijing Translational Medicine Institute, Chinese Academy of Sciences, an expert with special State Council allowances, and Deputy Director of Central Health Commission of China Democratic League. He studied at the University of Pittsburgh, USA from 2001 to 2004, and at St. Thomas' Hospital, London, UK and Churchill Hospital in Oxford in 2009. He was the first to propose and practice PCSL-oriented MMS treatment for intractable insomnia, discovered the cytoskeletal mechanism of deeper anesthesia to protect cognitive function following surgery and advocated the use of nerve repair instead of nerve destruction and hormone injection for chronic pain. His "missile + bullet" therapy for post-herpetic neuralgia, trigeminal neuralgia and chronic pelvic pain has been published in international journals. He has presided over two projects sponsored by National Natural Science Foundation of China, three projects sponsored by Capital Medical Development Foundation and one sub-project of the National Key R&D Program of China, and published more than 50 papers in English as first author or corresponding author. He is the initiator of the Special Committee on Anesthesia and Pain of Chinese Sleep Research Society, the Sleep Medicine Group of Chinese Society of Anesthesiology, the Electroconvulsive and Neurostimulation Group of Neuromodulation Committee of Chinese Neuromodulation Society, and the activity of "Journey of Sleep Medicine in China".