China's First Insect Cell-based Recombinant Protein COVID-19 Vaccine Approved for Clinical Trials
2021-03-15
Open the phone and scan
It is reported that the recombinant protein COVID-19 vaccine developed by the State Key Laboratory of Biotherapy at West China Hospital, Sichuan University was issued with a clinical trial permit from the National Medical Products Administration on August 21. The vaccine has received strong support from the Ministry of Science and Technology, the National Health Commission, the National Medical Products Administration, the Ministry of Education and other provincial and municipal authorities, as well as strong support and cooperation from a number of domestic R&D institutions.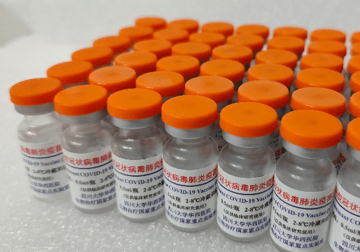 The vaccine targeted the receptor binding domain (S-RBD) of the spike protein of SARS-CoV-2 to trigger neutralizing antibodies to block the virus from infecting human cells. The researchers with this lab published a related paper in the internationally renowned journal Nature on July 29, which is the first paper on the COVID-19 vaccine published in the journal since the pandemic this year. The vaccine was tested on monkeys and other animals, and was found to have a good protective effect against SARS-CoV-2 infection, with no obvious side effects.
The vaccine was produced by using insect cells to multiply in the culture medium and introducing the gene of COVID-19 into insect cells, which means the cells can be used as a factory to produce high-quality recombinant vaccine proteins and purify them for refinement. Such an approach is suitable for large-scale manufacturing and marketing of vaccines. Insect cells have previously been used to develop recombinant protein vaccines against cervical cancer and influenza in Europe and the United States, and the approach has been tested to be safe on humans.
The team is now actively promoting the clinical trial of the vaccine and its industrialization in Chengdu Hi-tech Zone. West China Hospital of Sichuan University, the Bio-town of Chengdu High-tech Zone and the research team had founded Chengdu Wesker Biomedical Co., Ltd. At present, the company, with a whole set of homemade equipment, is planning to build a production line with an annual capacity of more than 100 million vaccine doses. Besides producing COVID-19 vaccines with insect cells, the company is also making rabies vaccines, influenza vaccines and herpes virus vaccines with the insect cell technology. Moreover, the company is also engaged in a variety of bacterial vaccines and tumor vaccines and other innovative products for immunotherapy, with 20 odd products in research and development and over 40 patents for related products and technologies obtained or applied. Several patents for the COVID-19 vaccine were also applied with the National Intellectual Property Administration this February.