MedComm | Two novel strategies to overcome the resistance to ALK tyrosine kinase inhibitor drugs: Macrocyclic inhibitors and proteolysis-targeting chimeras
2021-07-17

Open the phone and scan
Lung cancer is the most malignant tumor in the worldwide. About 3%-5% non-small cell lung cancer (NSCLC) patients carry anaplastic lymphoma kinase (ALK) gene fusions and receive great benefits from ALK-targeted therapy. However, drug resistance inevitably occurs even with the most potent inhibitor drug lorlatinib. About half of the resistance are caused by alteration in ALK proteins for earlier ALK TKI drugs and near one-third of loratinib resistant cases are caused by compound mutations without current effective treatment strategy in clinic. Novel strategies are in great need to overcome drug resistance. Lately, two novel strategies have been developed and attracted great attentions for their potentials to overcome drug resistance problems: (1) developed small compact macrocyclic ALK kinase inhibitors and (2) developed ALK targeted proteolysis-targeting chimera (PROTAC) drugs. The macrocyclic molecules are small and compact in size, brain barrier permeable, and highly potent against lorlatinib-resistant compound mutations. Developed ALK targeted PROTAC molecules could degrade oncogenic ALK driver proteins. Some showed superiority in killing ALK positive cancer cells and inhibiting the growth of cells expressing G1202R resistant ALK proteins comparing to inhibitor drugs. The update on these two treatment strategies was reviewed.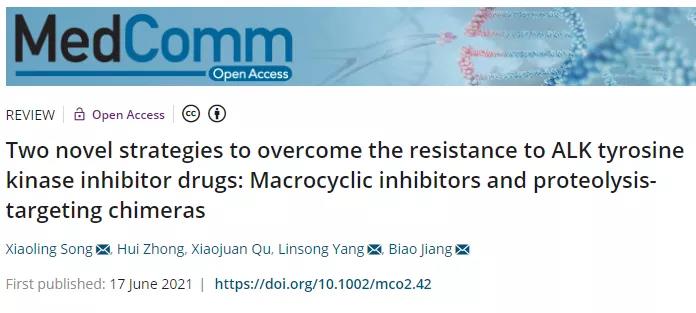 At present, five different ALK-Tyrosine kinase inhibitors (ALK-TKIs) have been approved by food and drug administration (FDA) to treat ALK-positive non-small cell lung cancer (NSCLC) patients (Figure 1). These drugs include the first-generation ALK-TKIs crizotinib, the second-generation ALK-TKIs ceritinib, alectinib and brigatinib, and the third generation ALK-TKIs lorlatinib. Although later generation ALK TKI inhibitors have better kinase selectivity and enhanced ability to overcome drug resistance, it has been proved that drug resistance inevitably occurs within a certain period of time after the initial drug treatment. It is urgent to develop novel and effective treatment strategies to overcome drug resistance. This article was focused on the update on two novel strategies to overcome drug resistance.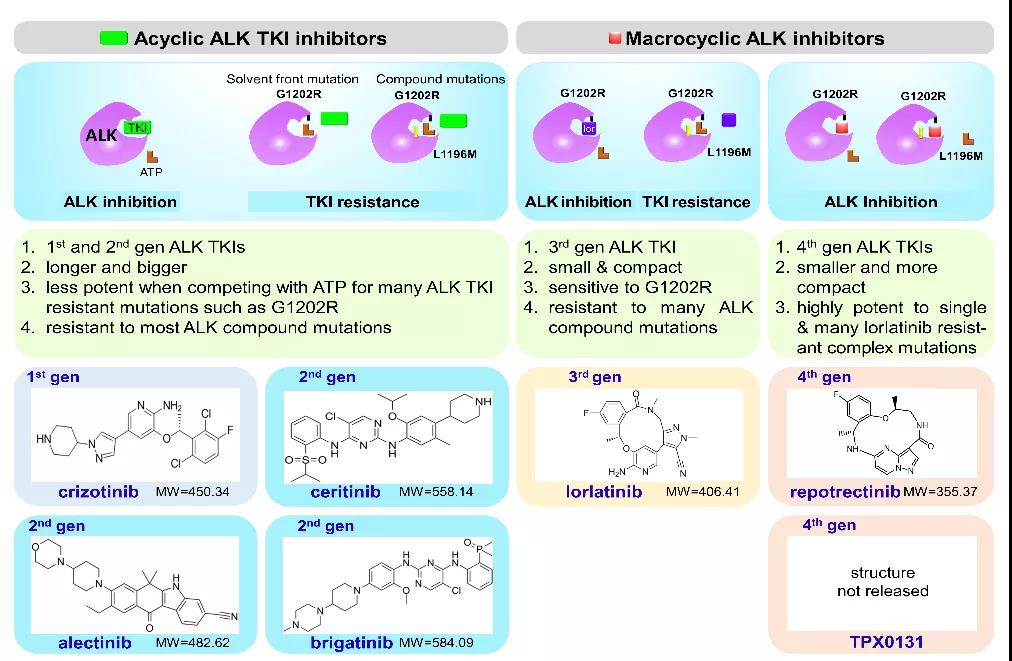 FDA approved ALK inhibitor drugs and novel macrocyclic ALK inhibitors
Article Access: https://doi.org/10.1002/mco2.42
Website for MedComm: https://onlinelibrary.wiley.com/journal/26882663
Looking forward to your contributions.